A CHERRYHARLEY RESCUE PARTNERS TRANSPORT
Bear's Transport Columbus GA to Wilson NC Sept 4, 2010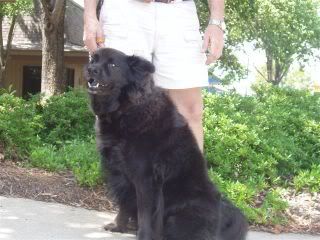 current updates to this transport can be found at http://cherryharleystransports.blogspot.com/
IF YOU CAN HELP, PLEASE FILL IN YOUR INFORMATION FOR THE
LEG(S) YOU ARE OFFERING AND REPLY TO COORDINATOR
TRANSPORT COORDINATOR:
Emily Cherry Goff (cherryharley)
cherryharleysavinganimals@yahoo.com (no spaces) (@yahoo.com)
(334) 744-5590
PLEASE PROVIDE:
Day and Leg(s) you are offering to take
Name
Address
City/State
Home #
Cell #
Can you receive text messages?
Email
Do you have email access after 5 pm and on weekends?
Emergency Contact phone #
Vehicle Desc
License Plate #
Suggested meeting place at the beginning of your leg
Suggested meeting place at the end of your leg
Passengers: Bear
(Detailed Info at the bottom)
**Route and Legs**
SATURDAY Sept 4, 2010
15 minutes has been added to each leg for water/potty breaks
All legs are flexible! Please let me know if you need to change anything!
Leg 1 Filled by transport coordinator
Columbus, GA to Hogansville, GA
9:00 am - 10:00 am
58 mi. - 1hr.
Leg 2 Filled, thanks Leigh-Anne S!
Hogansville, GA to Atlanta, GA
10:15 am - 11:15 am
56 mi. - 1 hr.
Leg 3 Filled, thanks Vicki H!
Atlanta, GA to Commerce, GA
11:30 am - 12:45 pm
69 mi. - 1 hr. 15 min.
Leg 4 Filled, thanks Don G!
Commerce, GA to Anderson, SC
1:00 pm - 2:00 pm
57 mi. - 1 hr.
Leg 5 Filled, thanks Beth K!
Anderson, SC to Spartanburg, SC
2:15 pm - 3:15 pm
54 mi. - 1hr.
Leg 6 Filled, thanks Melissa F!
Spartanburg, SC to Charlotte, NC
3:30 pm - 4:45 pm
74 mi. - 1hr. 15 min.
Leg 7 Filled, thanks Karen and Mike M!
Charlotte, NC to Greensboro, NC
5:00 pm - 6:30 pm
92 mi. - 1hr. 30 min.
Leg 8 Filled, thanks Mary W!
Greensboro, NC to Durham, NC
6:45 pm - 7:45 pm
54 mi. - 1hr.
Leg 9 Filled, thanks Cindy!
Durham, NC to Wilson, NC
8:00 pm - 9:15 pm
67 mi. - 1hr. 15min.
End of Transport
Passenger:
Name: Bear
Age: 11 yr old
Breed: chow/shep mix
Sex: Male
Spay/Neuter: yes
UTD on Vaccinations: yes
Health Certificate: yes
Reason for Transport: owner passed away, Bear is going to a new home
THE FINE PRINT: As a volunteer transport coordinator, I am dependent on what the senders tell me about our passengers' temperaments, The very nature of rescue transport creates some risk for those who participate in it; even a good-natured dog may find it stressful to be passed from stranger to stranger and cooped up with unfamiliar dogs, and in consequence may act in uncharacteristic ways. Neither I nor anyone associated with this transport can accept liability for any accidents or incidents that may occur during the transport.